WOODRUFF, SOUTH CAROLINA — Todd Kohlhepp is the kind of monster you can only envision from fiction. A registered sex offender, Kohlhepp's story first came to light when a young woman, 30-year-old Kala Brown, was rescued from a metal container last Thursday. She and her boyfriend Charles Carver, 32, had been missing since August 31 and were presumed by many to be dead. His body was discovered the day after Brown was pulled from the 30-by-15 container where she had been chained by the neck for months.
Brown was found after officers, tipped off by a sex crimes investigator on November 4, searched the property. They heard a loud banging emerge from inside the shipping container and opened it to find Brown bound around the neck. According to the corresponding episode of 48 Hours, the chain was looped through something in the top of the container that was then latched around to the woman.
According to officers who investigated the tip, Kala Brown was held in a structure that "looked like a shark's cage" inside the shipping container." Inside, she was clothed but bound.
Kala Brown also confessed to seeing her captor murder her boyfriend, 32-year-old Charles David Carver, right in front of her. He purportedly shot Carve three times in the chest, killing him almost instantly.
Kohlhepp had purportedly hired Brown to work cleaning houses for the realtor, which explains the connection to her disappearance. Brown and Carver purportedly went to the secluded property when they went missing.
This past weekend, a second body was found. However, as of this writing, the age and gender of the person had not been determined. From a WYFF4 article:
[Sheriff Chuck] Wright would not clarify whether the remains were skeletal. He said they aren't sure how long the body had been there.
Kohlhepp has since confessed to four murders going all the way back to 2003 and burying two others on his property in Woodruff, South Carolina, about 80 miles northwest of Columbia. The authorities are currently digging up large swaths of the 100-acre property to uncover the bodies.
Judging by the articles I've read, this does not appear to be an investigation with a limited scope, either. If the report on WYFF4 is to be believed, they are investigating any number of properties belonging to Kohlhepp, who owned his own real estate agency in the area. Kohlhepp was charged with four murders on Sunday, and I imagine more charges will be forthcoming.
"He did some bad things, but a monster?" The mother said, "Ted Bundy I'd call a monster, but Todd…he wasn't doing it for enjoyment. He was doing it because he was mad, and he was hurt."
However, the 'monster' tag might not be so easy to shake. Here is an unsettling quote from a recent USA Today article:
"This is one of a kind, extremely rare," said Dr. Eric Hickey, who has studied serial killers for 35 years and assisted law enforcement and the FBI.

Enzo Yaksic, who runs Northeastern University's Murder Accountability Project and has built a database on serial killers for use by law enforcement, described that pattern as "incredibly uncommon."

"I don't think I've seen that in any other case before," he said.
Yikes. I hate to get into the more speculative aspects of this case, but I wonder at this point if we are looking at a story that will hang around in people's memories for a long, long time or not. It seems to have all the horrific ingredients for a sensational true crime narrative, including a killer who could be a violent maniac or a cold, calculating killer. The details aren't quite out in the open yet.
The Social Media Angle
Perhaps the most unsettling aspect of this case is the fact that Carver's Facebook account was hacked, presumably by Kohlhepp, and posts were made intermittently to give the impression that he and Kala Brown were essentially okay.
Not only that, but here is the even crazier thing: Kohlhepp even appeared to comment on the situation from his own Facebook account:
Reading the news.. this person missing, that person missing, another person missing.. oh wait.. that person just went to beach with friend, other person found with her parole violation boyfriend," Kohlhepp wrote on September 15, apparently dismissing the disappearances.
And one more:
In the event I become missing, please note no one would take me… most likely if I am missing, its because my dumb ass did something on that tractor again and I am too stubborn to go to the doctor… I got 9 lives.. I aint done yet.
That is so completely, utterly messed up. I guarantee this will not be the last we hear of Kohlhepp and this case. There are so many moving pieces, and Kohlhepp's certain brand of psychopathy lends itself to endless speculation.
The illogical aspect of the case is, how did he ever get a realtor's license in the first place? I did some digging, and turns out, he raped a 14-year-old girl and pled down somehow to the charge of kidnapping. He lied on the licensure documents way back in 2006, apparently, stating that ""I entered into a verbal argument with my girlfriend who was also 15 at the time," Kohlhepp wrote. "I was charged with felony kidnapping due to the fact that I did have a firearm on me."
I'm always interested in the moments that led people to commit the crimes that would land them in jail for the long haul, and Kohlhepp's appears to start some time ago. See, this should not have been a surprise to anyone. Kohlhepp has a long and storied history of bizarre behavior…and he's a felon.
The Amazon Reviews
As if this case couldn't get any stranger, it appears that Todd Kohlhepp left some "ghoulish" Amazon reviews on a set of wide-ranging products, from locks to chainsaws to shovels. Rather than try to explain them, I'll let the reviews speak for themselves:
The Superbike Murders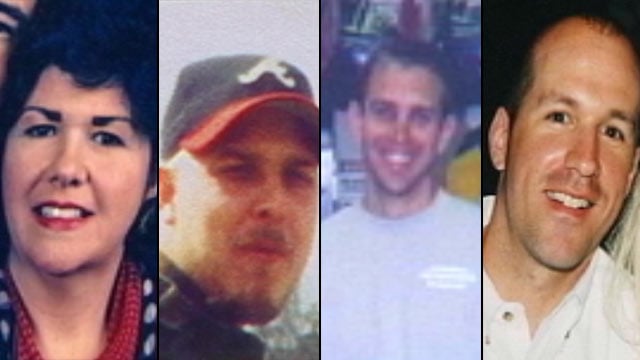 Kohlhepp admits to killing four people in seven minutes in the "Superbike Motorsports" murders back in November, 2003. The shop's owner, Scott Ponder, his mother, Beverly Guy, service manager Brian Lucas, and mechanic Chris Sherbert all perished in Chesnee, South Carolina's lone quadruple homicide.
The site Crime Watch Daily goes into horrible detail about the mass murder:
Ponder's friend Noel spoke to him before he drove to the shop on the morning of Nov. 6, 2003. Seven minutes later Noel stumbled upon four people murdered in cold blood.

Mechanic Chris Sherbert's body is found in the back of the shop, bent over as though he were working on a bike. Beverly, also in the back, appears to have been ambushed while stepping out of the bathroom.

"Brian Lucas and Scott Ponder were both found dead. Their bodies were out here out front of the store," said Daniel Gross, a crime reporter for the Spartanburg Herald-Journal. "Except Brian's is out here closest to the sidewalk near the door there. And Scott Ponder's was closer to the parked cars here in the parking lot."
Closure is an illusion, it seems, but at least the victims in all of these cases will be afforded some in the wake of this devastating situation. I'll update this post as details become available to the public at large. Stay tuned.