I have to admit: I've kind of been on a year-long hangover from my obsession with 'Serial.' The case of Adnan Sayed gripped me, and my wife and I listened to it on a marathon trip home to see my family. (You can guess we're a riot to be with on a road trip.) It's a truly phenomenal true crime podcast, and I loved every mysterious moment of it.
Since then, I've struggled to find similar-themed podcasts to occupy my alone brain-time. I'm sure you have also suffered from 'Serial' hangover, unless you dug season 2, which I did not. (Sorry.) 'Making a Murderer' helped — if you haven't watched it, go directly to Netflix right now — but the good true crime things are few and far between.
That's why it was imperative for me to do some investigative work. As a result, I've found a handful of true crime podcasts you might like to dig into. These are personally vetted by me, and I'll explain a little about what makes each special and why I'd recommend it. There are funny podcasts here. Weird ones. Dark ones. Timely ones. It's a smorgasbord of murder and the macabre, and if you like that sort of thing, you'll be right at home.
6 Must-Listen True Crime Podcasts
The Lowdown
From the Stitcher site:
The Sword and Scale true-crime podcast is an immersive audio experience covering the underworld of criminal activity and the demented minds that perform the most despicable and unthinkable actions, proving that the worst monsters are very real. We cover true-crime stories, high-profile trials, unsolved murders and missing persons cases.
What's To Like
Everything? Truly, Sword and Scale is one of the most well-written, well-produced true crime podcasts out there. It has an NPR-style vibe to it, and the show tackles both timely and under-reported topics.
What's Not to Like
Almost nothing. The host can get a bit too navely-gazy, but other than that, it's an amazing podcast to behold. My only regret is not having discovered it sooner.
The Lowdown
From the Facebook page:
Fact is scarier than fiction. Casefile, a new true crime podcast. Each episode explores a new case. The shocking, the terrifying, the strange, the unsolved.
What's To Like
Casefile is the closest audio version of Unsolved Mysteries you can find. The tone of this particular true crime podcast is altogether self-serious, and the host provides the listener with a new case every (or every other) week. The cases themselves are well-researched and usually something you haven't previously read about.
What's Not to Like
Sometimes, the storytelling can be a bit too straightforward. It just goes from Point A to Point B, without a necessary amount of editorializing.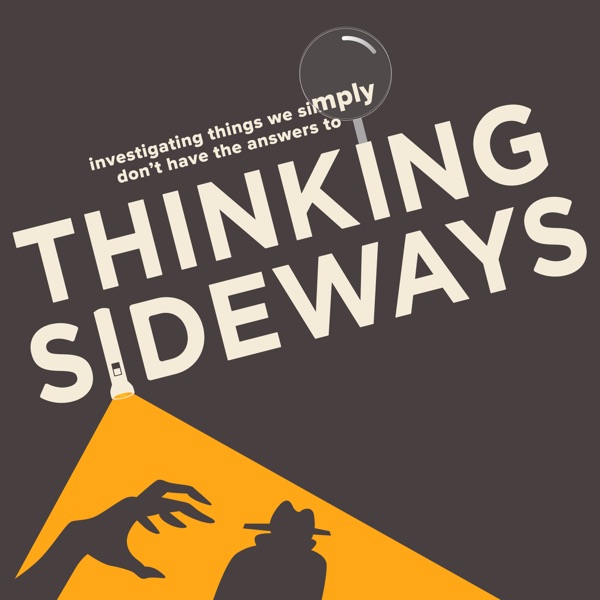 The Lowdown
From the iTunes page:
Investigating things we simply don't have the answers to. Sometimes you have to think a little sideways to come up with a plausible solution to the mystery.
What's To Like
The hosts have a great repartee and spend as much time goofing off as discussing the issue at hand. Unlike the others mentioned on this list, Thinking Sideways doesn't take itself quite as seriously. The topics themselves also have a wider range than the rest of the podcasts.
What's Not to Like
Since the podcast investigates unsolved "mysteries" — haha — there is no clear conclusion to many of the episodes, so they end up speculating as to what "could" have happened. This is, for me, a strength of the show, but plenty of people see it as a sign of the show's lack of research. Also, some reviews point out that, since the show is not as serious, the focus is on the personalities on the podcast instead of the topics themselves, which detracts from the mysteries.

The Lowdown
Each week Nic & The Captain get in the garage and talk true crime and drink beer.
What's To Like
A relatively new podcast to the true crime landscape, True Crime Garage is, like Thinking Sideways, a podcast that's more laid-back with regard to format. It's more of a conversation between friends that you get to eavesdrop in on, rather than a traditional investigative podcast. The guys are funny and wholly knowledgeable about the subject matter, and the relationship between the hosts and the audience is what you'll really get into.
What's Not to Like
If you prefer a serious take on your tales of murder, True Crime Garage might not be the best fit for you. Nic and the Captain (especially the Captain) revel in gallows humor when discussing the cases, so it might come off as a bit flippant to you. To me, it's necessary humor, but you might read it totally differently. Still, it's one of my favorite two or three true crime podcasts.
The Lowdown
Detective is a hit podcast from Investigation Discovery. Join us for an all new season with Detective Garry McFadden, a 27-year veteran of the Charlotte-Mecklenburg Police Department.
What's To Like
The podcast is broken into seasons, featuring one retired detective per season, and the subjects (the detectives themselves) are utterly fascinating. I especially liked Det. Kendo's voice from season one. This is an inside look at what it's like to be a homicide detective, and the podcast covers a wide array of topics related to the job.
What's Not to Like
Each episode is anywhere between fifteen to twenty-five minutes. It makes for a good short commute podcast, but if you're looking for something substantial and in-depth, this is not going to be the podcast for you. You'll only be able to get bite-sized chunks of information.
The Lowdown
A podcast about Maura Murray's disappearance hosted by Tim Pilleri and Lance Reenstierna. If you have any information on her location please contact the New Hampshire State Police. MauraMurrayDoc.com
What's To Like
The Missing Maura Murray Podcast features a singularly interesting story about the disappearance of a UMass at Amherst student back in 2004. After spinning out on a road in New Hampshire, Maura Murray is never seen again. Is it a missing persons case? Is it a murder case? Is it an abduction case? The great (and horrifying) thing is that it is simultaneously all three. Be sure to start with episode 1 to catch the entire story.
What's Not to Like
The format is somewhat uneven and lacking in structure. The hosts indulge in over-speculation, often engaging in boundless conspiracy theories without a shred of evidence. They also sometimes have a tendency to connect coincidental dots and then create elaborate theories based on those. It can be frustrating, because it sends the podcast away from the actual facts of the case, so beware of the hosts' tendency to be dragged off-topic.